MS Office/Excel/Word, File and Flash Utilities/Software
Interesting Thoughts Writing Website
Health and Wealth Tips/Info Website
Funny Daily Comics
Blackjack Strategy Software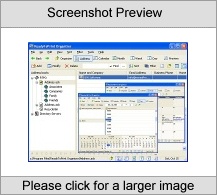 (Click for larger picture)

ReadyToPrint Organizer Product Information

To introduce ReadyToPrint Organizer, we are offering a special promotion! Only $19.95 U.S. for the full version until October 16, 2019! Click here to order now!





ReadyToPrint Organizer Overview:

Create a hard-copy organizer from a selection of calendars, address books, and expense forms. Manage your contacts, personal diary or journal, as well as events, appointments and to do list with this simple program.

Try the free trial version first, or click here for pricing/to purchase a full version! Order by phone, fax, cheque, money order, or order securely online!
Be sure to check out these other fine products!
Advanced SMTP Server | SECURITY OFFICER 2000 PRO | CoffeeCup HTML Editor | Visual TimeAnalyzer